Page 36 - SAFRAN DP 2021-DEFI-CLIMATIQUE-GB
P. 36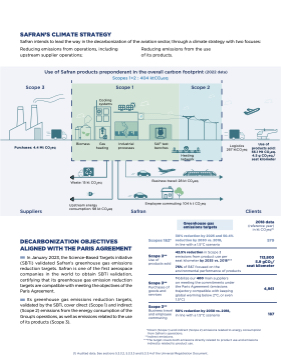 EMPLOYEE ENGAGEMENT
■ The success of Safran's extensive efforts to reduce its environmental footprint is largely dependent on how fully employees embrace this plan. It's also important to enhance the employer brand and attractiveness: younger generations are increasingly demanding about their future employer's corporate social responsibility.
■ Safran provides opportunities for each and every employee to contribute to the organization's continuous improvement through its employee-driven
innovation program. The Safran Innovation Awards, organized annually for the last 15 years, recognize the most innovative projects conducted by its people, whether in terms of new technologies or local improvements from the shop floor. A new award category was added in 2021 to encourage innovation that supports the energy transition and reduction of Safran's carbon footprint, by facilitating the development of eco-friendly processes, products, services and technologies.