Page 5 - SAFRAN DP 2021-DEFI-CLIMATIQUE-GB
P. 5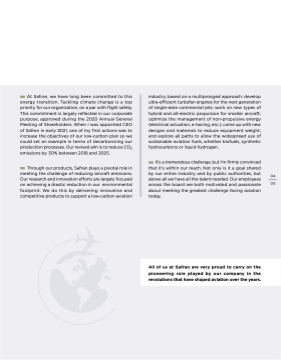 ■ At Safran, we have long been committed to this energy transition. Tackling climate change is a top priority for our organization, on a par with flight safety. This commitment is largely reflected in our corporate purpose, approved during the 2020 Annual General Meeting of Shareholders. When I was appointed CEO of Safran in early 2021, one of my first actions was to increase the objectives of our low-carbon plan so we could set an example in terms of decarbonizing our production processes. Our revised aim is to reduce CO2 emissions by 30% between 2018 and 2025.
■ Through our products, Safran plays a pivotal role in meeting the challenge of reducing aircraft emissions. Our research and innovation efforts are largely focused on achieving a drastic reduction in our environmental footprint. We do this by delivering innovative and competitive products to support a low-carbon aviation
industry, based on a multipronged approach: develop ultra-efficient turbofan engines for the next generation of single-aisle commercial jets; work on new types of hybrid and all-electric propulsion for smaller aircraft; optimize the management of non-propulsive energy (electrical actuation, e-taxiing, etc.); come up with new designs and materials to reduce equipment weight; and explore all paths to allow the widespread use of sustainable aviation fuels, whether biofuels, synthetic hydrocarbons or liquid hydrogen.
■ It'satremendouschallenge,butI'mfirmlyconvinced that it's within our reach. Not only is it a goal shared by our entire industry and by public authorities, but above all we have all the talent needed. Our employees across the board are both motivated and passionate about meeting the greatest challenge facing aviation today.
04 05
     All of us at Safran are very proud to carry on the pioneering role played by our company in the revolutions that have shaped aviation over the years.